Events
November 2016
Because Paul and Anna have been so busy this year with exhibitions and commissions, they regret that they are unable to produce a November show.
The Magic of the Illustrated Journal
Paul's acclaimed Illustrated Journal Workshops are available on request. If you have a venue or a group of people who would like to take the workshop, please contact Paul for more information. The workshops include a custom notebook and special drawing tools.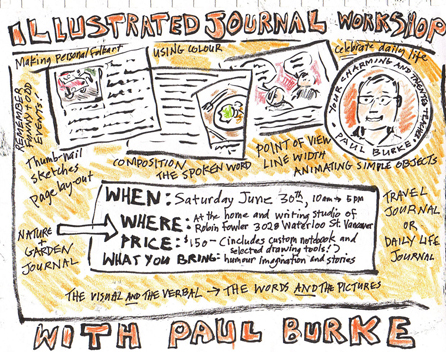 Past Events
2015 Art Show & Sale in Vancouver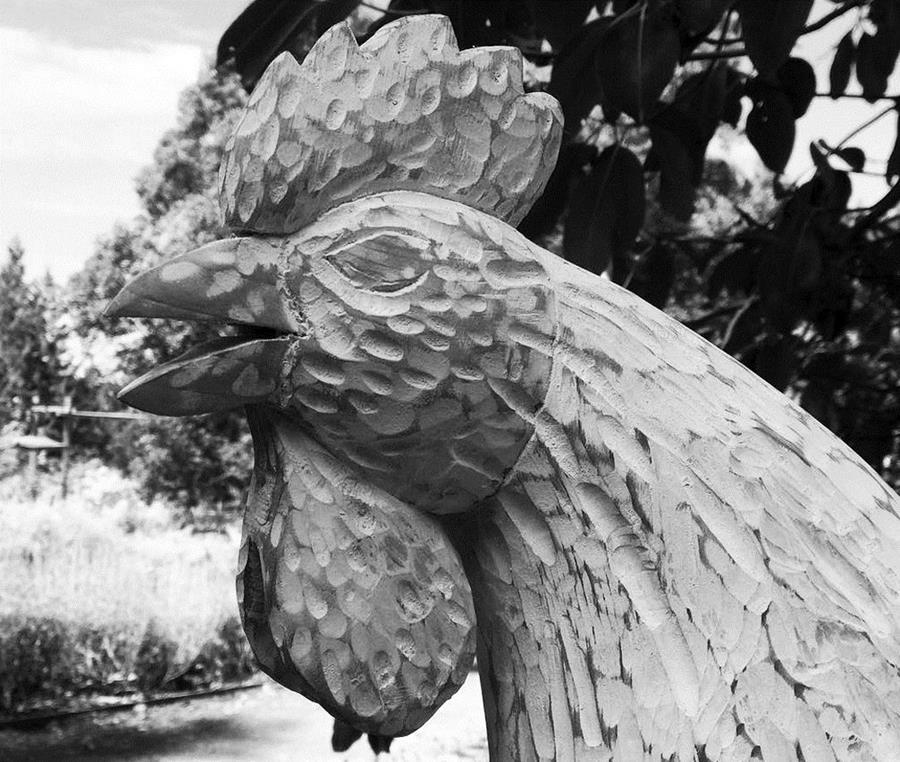 November 16, 2014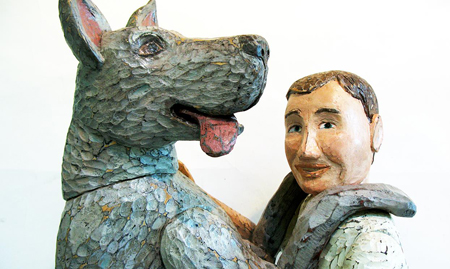 Jack Loves Napoleon - his Great Dane. Lisbet loves her two Salukis.
Celebrating our human bond with dogs.
Annual Vancouver Show and Sale
November 24 2012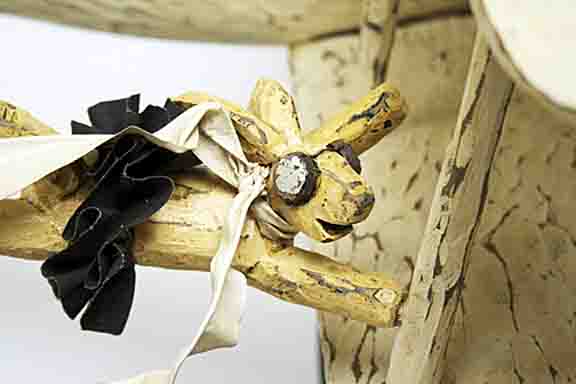 Aviation Buffs get ready! Willy Pepper & the Pepperonians are flying again!
We are thrilled to be back at the beautiful light-filled home of Barb Lindsay and Norm Hotson. Come and join Paul and Anna for food, drink and wonderful art.
Saturday, November 24th, 10 am to 6 pm
For those of you that did not have chance to see our new Mrs. Drysdale's Circus pieces at the Pendulum Gallery in downtown Vancouver in September, we will bring several of our favorite sculptures and painted posters, like Willy Pepper and his Gang, The Minoan Donkey, Icarus and his Very Tall Ladder....to see more.
For the Bird Lovers, Anna's new bird paintings and Paul's bird sculptures will also be an important part of our November show.
Additionally, Paul has created "Iconic Buildings of Vancouver", from the Vancouver Special to the Sun Tower...an architectural cage-match!
September 2012
MRS. DRYSDALE'S CIRCUS RETURNS TO VANCOUVER!
Anna Gustafson and Paul Burke are excited and eager to announce that the highly acclaimed Mrs. Drysdale's Circus will appear this fall at the Pendulum Gallery, across from the Vancouver Art Gallery! The opening reception will be from 6-8pm on Thursday, September 13th, and the show will run until September 22nd. Be prepared for a show BIGGER, BOLDER, AND MORE BREATH TAKING than the last!
The circus will feature EXTREMELY LARGE BUTTON-EYED ANIMALS. Must be seen to be believed!
Paul and Anna look forward to updating you all on the details of this latest news in the form of a newsletter very soon! For now, you can "like" their newly minted
Facebook
page!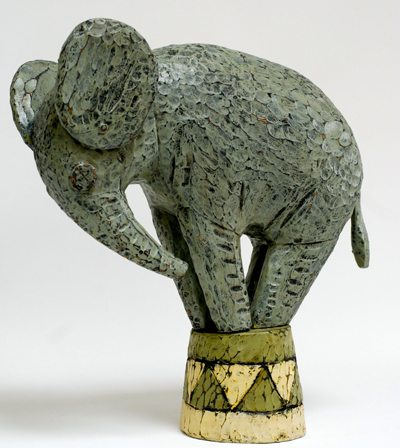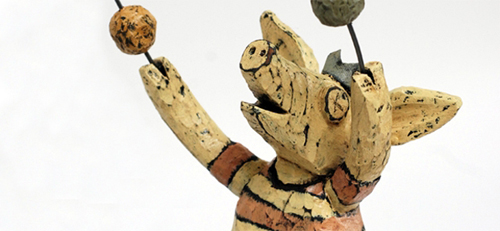 Mrs Drysdale Circus in Vancouver!
Widely acclaimed in Toronto and Salt Spring Island, Mrs Drysdale's Circus arrives for the FIRST TIME in Vancouver, on November 19th! All-new acts will Thrill and Amaze all those who witness this Unique and Joyful Spectacle! Join artists Paul Burke & Anna Gustafson and see their New, Astonishing, and Startling Sculptures*
Saturday, November 19th, 10am to 6 pm
DO NOT FAIL TO EXPERIENCE THIS HISTORIC BREAKTHROUGH EVENT!
TORONTO SHOW - June 3 & 4, 2011


Paul Burke & Anna Gustafson

Art Show & Sale

folk art sculpture, encaustic
paintings & raku ceramics


Texas
Paul Burke took his Horse & Rodeo Collection to Texas
- visit Paul's new horse web site: www.paulburkehorsesculpture.com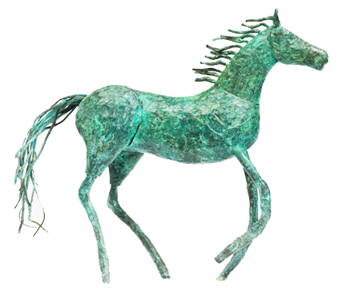 "Alexander" bronze by Paul Burke

one day only - Sunday, December 5, 2010

Vancouver
Paul Burke & Anna Gustafson
Art Show & Sale
Come and Celebrate the Big Run of 2010!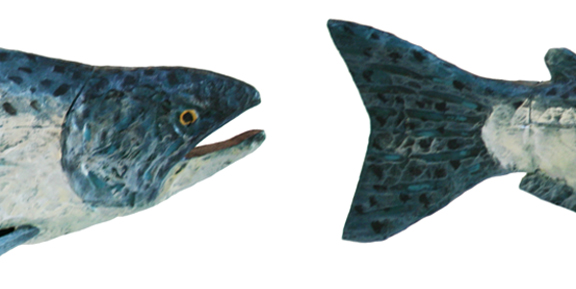 "Silver Sockeye" by Paul Burke

one day only - Saturday, November 20, 10am - 6pm



Victoria
Anna Gustafson in group show at Coastal Collective Gallery
Hot Wax - A Collection of Encaustic Work
November 11 - 21 Thursday - Sunday, noon to 5pm
3221 Heatherbell Road, Colwood, BC map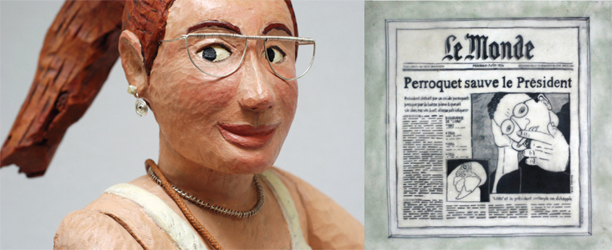 'Charlotte' by Paul Burke 'Loro Saves the President' by Anna Gustafson
Art Show & Sale - Toronto 2010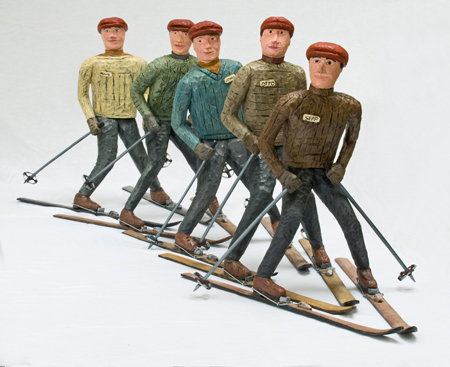 Art Show & Sale - Vancouver - November 21, 2009 10 am to 6 pm
one day only -Saturday, November 21, 10 am to 6 pm
Art Show & Sale - Victoria - November 28, 2009 10 am to 5 pm
one day only -Saturday, November 28, 10 am to 5 pm
The Magic of the Illustrated Journal
A course with Paul Burke at FoxGlove Farm on Salt Spring Island - program description
August 18-21, 2009
Show and open house Thursday, August 6th from 5 - 9pm.
Art Show on until August 30.
Join us opening night at Blue Horse Gallery to view work by Sophia Burke and celebrate the opening of Bloom, our new Bed and Breakfast.
Art Show & Sale - Victoria 2009
Paul Burke showing at Winchester Gallery, Victoria, BC May 3rd to 23th
Paul will be exhibiting his sculptures with the paintings of Joe Norris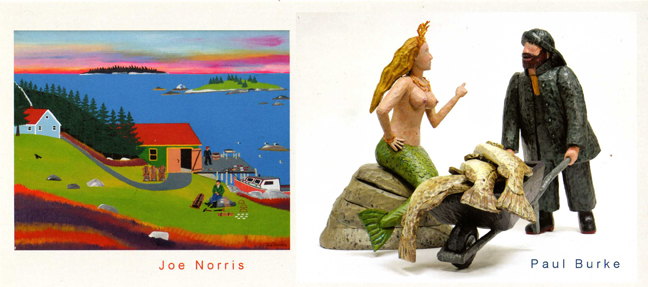 Art Show & Sale - Calgary 2009
May 28 - 30, 2009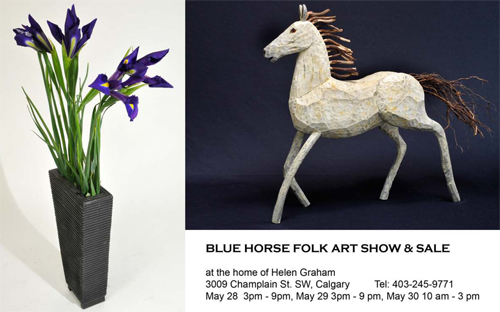 Past News
Our first newsletter - Volume 1 - October 2011
Blue Horse Gallery Organic B&B

Now open year-round Bloom Organic B & B, located above the beautiful Blue Horse Gallery over looking a large garden pond. Now two suites available The Pond Suite and the Orchard Suite.

For more information, contact Paul & Anna at bluehorse@saltspring.com