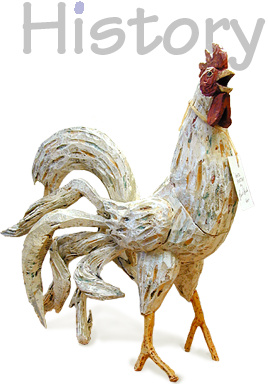 Like many city people, Anna Gustafson and Paul Burke nursed a longstanding dream to devote themselves full-time to art and move their family to a tranquil setting. At the time they were managing demanding careers in fashion design and construction, while living in an old Victorian house in the heart of Vancouver.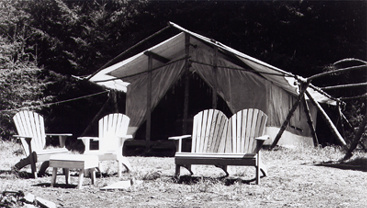 Paul was the first to leap. Since 1988 he'd been making wooden animal sculptures and the success of a small show in 1990 motivated him to expand his menagerie on a full-time basis. With help and inspiration from Anna, he also produced a collection of rubber stamps for stamp art. The couple took one step closer to their dream when Anna decided to leave the clothing industry. This not only liberated much of her time, it also unleashed pent-up creative energy that immediately demanded she become a potter. Since Paul had already taken over the basement for his carving and she lacked a studio of her own, Anna threw her first pots in the living room!
Soon both artists achieved a level of success that meant they could devote their working hours exclusively to creativity. They began seriously to envision the ideal place to live: a rural environment with enough land to build two spacious studios. During the next five years they searched all over B.C. for a new home.
In the winter of 1996 they found it on Salt Spring Island, a small community with close connections to Vancouver and Victoria. Initially looking for a barn and a field, they fell in love with 8 acres of magnificent arbutus trees, cedars, and firs.
With their two kids, two dogs and two cats, they moved from Vancouver and began to thin the woods, clearing a little space for the house they would build. Their plan was to live in tents for the summer, and move into a partially completed home before the chilly, wet winter arrived.
Anyone who has ever built anything knows that the process takes about five times as long as you intend it to. The stages of envisioning, designing and building their house and studios took a full two years. During this time -- yes, two years -- the whole family continued to camp. Their home was a makeshift plastic house and four canvas wall tents on platforms. Record rain and snowfall didn't deter their enthusiasm as the house took shape.
Eventually they settled into a proper house, with doors and windows, indoor plumbing, and two studios on the main floor. But Paul and Anna felt the urge to keep building. A new vision propelled them forward: a gallery on their own property to showcase their work. Blue Horse Folk Art Gallery started as a traditional small shingled building, but two years later the volume of visitors persuaded them to add two more rooms and several skylights. The resulting space was breathtaking in a way that no-one could have imagined.
Paul Burke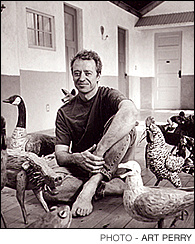 A particular curved branch from an apple tree, a gnarled and interesting cedar root, a piece of weathered juniper from a windswept island, all of these might inspire Paul Burke in the creation of a unique folk-art animal sculpture.
Whether I start with a piece of driftwood or a block of white pine, the most important thing for me is to capture some spirit of the animal it will become. I have drawn, painted, and carved since childhood, and art has come to be connected in a wonderful way to my other passion, natural history. Now, living and working on Salt Spring Island, I feel the last piece of the puzzle is in place.
What actually comes out of Paul's studio is often not just a unique individual animal sculpture, but a duet between oystercatchers, a trio of cats, a flock of gulls or a herd of horses running with the wind. He excels in revealing the interaction and relationships between animals, whether a mare with her foal or two barnyard roosters. He is also particularly interested in the special connection between people and the animals they live and work with. Paul Burke captures the essence of the moment with the exhilarating finish of a horse race, and expresses the fluid unity of a single horse and rider.
Paul Burke's animals have evoked personal response from varied individuals. Environmentalist Wade Davis commented that his work is simultaneously artful and of this place. Paul Burke's place is very much British Columbia and especially the Pacific coast where he lives. His sculptures however have traveled far from their origin, and are found in private collections, primarily across Canada and the United States, but also in England, Ireland, Germany, Sweden, Japan and Australia.
His first collaboration with Anna Gustafson (other than their two children) was Past, Present, Future Uncertain. Since that time they have combined their strengths to build a powerful and emotional statement whose voice is greater than the sum of their individual visions and work.
2003
Founded and Created Salt Spring Island Chocolate -with Anna Gustafson
1999
Designed and built Blue Horse Folk Art Gallery -with Anna Gustafson
1996 - 1998
Relocation to Salt Spring Island, building studio, gallery and home.
1996 -
Solo Show Past Present, Future Uncertain
Nanaimo Public Art Gallery, Jan/Feb -with Anna Gustafson
Solo Show Words of the Penan -with Anna Gustafson
Victoria Art Gallery, June/ July
Solo Show Salmon Running -with Anna Gustafson
Queen Charlotte Islands Museum, October
1995
July, August - Remounted Courtenay Public Museum
March - Group Show - Willsden Gallery, Courtenay Burgess Shale -with Anna Gustafson
1994
August 1994 - Commonwealth Games, Victoria Salmon Running -with Anna Gustafson
May 1994 - Recipient of Canada Council Grant -with Anna Gustafson
Past, Present, Future Uncertain
1993
October - Artropolis 1993, Vancouver 13 Elk Killed Here -with Anna Gustafson
Anna Gustafson
Anna Gustafson's body of work reflects a diverse and inventive use of materials, a fascination with texture and a sense of adventure in colour. Visual storytelling is the consistent thread that weaves through her collection, from raku to painting and even furniture.
From a remarkably young age Anna has engaged with the creative process. An artistic curiosity stretched her technical skills and constantly wondered 'what if?' The result has been an unfailing vision for the possibilities inherent in any chosen media. Within a year of graduating from the Vancouver School of Art she had her first solo show. Six shows quickly followed in Vancouver, New York and Winnipeg galleries.
Although Anna never stopped creating art, she took a hiatus from showing her work while she founded and built the internationally renowned Bravo! Children's Wear, with two partners. As the creative inspiration behind the company, she designed imaginative fabric prints and distinctively styled garments. An artist can have a lot of fun designing clothing, particularly children's clothing, playing with shape, colours, fabric and other details to create a story that forms the heart of each collection.
Story creation was at the heart of three visionary installations that marked Anna's return to the art world. These collaborations with husband Paul Burke were partially funded by the Canada Council. Words of the Penan, Salmon Running and 13 Elk Killed Here gave voice to diminishing species, threatened cultures and the changing dynamic between man and nature.
Since moving from Vancouver to Salt Spring Island, vision and storytelling have become more evident than ever, infusing her work with a sense of wonder and fresh inspiration. Currently Anna takes great pleasure in balancing raku ceramics with painting. Texture and pattern are important elements to both, but the raku's unpredictable nature brings mystery and adventure; she enjoys not knowing quite what the end result will be. Painting of course allows greater control and is more immediate in terms of results.
2003
Founded and Created Salt Spring Island Chocolate -with Paul Burke
1999
Designed and built Blue Horse Folk Art Gallery -with Paul Burke
1997
Designed Liberty Bakery, Vancouver, B.C.
1996 - 1998
Relocation to Salt Spring Island, building studio and home -with Paul Burke
1996
Solo Show Past Present, Future Uncertain -with Paul Burke
Nanaimo Public Art Gallery, Jan/Feb.
Solo Show Words of the Penan -with Paul Burke
Victoria Art Gallery, June/ July
Solo Show Salmon Streams
Stamp Art Gallery, San Francisco, July
Solo Show Salmon Running -with Paul Burke
Queen Charlotte Islands Museum, October
1995
Solo Show Past,Present,Future Uncertain -with Paul Burke
Campbell River Public Art Gallery
Group Show Burgess Shale -with Paul Burke
Willsden Gallery, Courtney, B.C.
Remounted Courtenay Public Museum
1994
Group Show Salmon Running -with Paul Burke
Rock Bay Gallery, Victoria (Commonwealth Games Grant)
Solo Show Past, Present, Future Uncertain -with Paul Burke
Canada Council Explorations Grant
1993
Group Show 13 Elk Killed Here -with Paul Burke
Artropolis 93, Vancouver
1985 - 1993
Founder, Designer, Creative Director- Bravo! Children's Wear
Clothes sold in North America, England, Sweden, Saudi Arabia, Lebanon, Japan, Hong Kong, Singapore, Mexico, Puerto Rico.
1991
Award: Best Children's Wear Designer in Canada
Edmonton Journal
1986
Group Show: 10 plus 1, The Way We Were
Surrey Art Gallery
1983
2 Person Show Standing on Ceremony
Surrey Art Gallery
1979
Group Show National Enamelling Show
Aaron Faber Gallery, N.Y.,N.Y.
Commission: Skylight For Coquitlam Centre
1978
Group Show Works in Transparent Media
Surrey Art Gallery
1975
Group Show Women in Art
Winnipeg Art Gallery
1974
Solo Show Anna Gustafson
Burnaby Art Gallery
1973
Graduated Vancouver School of Art
1972
Commission: Arthur Erickson to produce a series of banners for Simon Fraser University